Doesn't your dog deserve a Stay in the Country?
Looking for a pet kennel that isn't one? A daycare that breaks the mold? Training that leaves the cookie cutter behind? Grooming that your dog actually enjoys? In short, a place you can bring your four-legged family member with complete peace of mind?
At A Stay in the Country, we recognize, celebrate, and accommodate each unique animal's needs, preferences, and quirks. And we take just as good care of our human clients.
If you're looking for a dog facility that's a bit different, you've found us. We can't wait to show you around.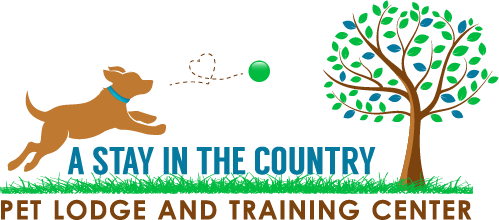 HOW OUR SERVICES ARE DIFFERENT:
Small, carefully chosen play groups for maximum enjoyment and safety
Our Playgroups are always supervised for your pet's safety and your peace of mind
Customized boarding and daycare experiences because each dog is unique
We do the training for you so you can enjoy the best the results
We take our time to make sure your dog enjoys her grooming
HOW WE ARE DIFFERENT:
We really care about our four and two-legged clients both
We notice the details because we understand how much they matter
We go above and beyond to make sure your dog is happy—and you are, too
We're fun to work with because we take such joy in what we do
We're grateful to be entrusted with the care of your beloved family member
A kennel that's not a kennel, that's how we think of ourselves. Your dog can expect fun-filled days designed specifically for him. Ready for peace of mind?
No big, unsupervised groups here. Each daycare guest enjoys a supervised daily itinerary customized to her needs—which means fun for your dog and peace of mind for you.
We created our Day School and Lodge & Learn programs with busy clients in mind. That's why we do your training homework for you.
A puppy's experiences help mold him into the dog he'll be. That's why we take special care to cater all our services just a bit differently for pups.
Beautiful cuts. Shiny clean dogs. All accomplished with gentle, patient handling. We want your dog to enjoy her time with us—even when she's having a bath.
A great way to get to know us a bit better! We write about all things dog—care, behavior, the funny moments and the poignant ones. And we post some pretty great pictures, too.
WHAT OUR CLIENTS SAY
"Our dogs don't know they've ever been to a kennel"
"Our Basset Hounds Blanche and Mabel haven't quite figured out that they've actually ever been to a "kennel." Whenever they arrive at "A Stay in the Country" they greet the owner Harriet like they're seeing an old friend.
"A Stay in the Country" is like their second home."
---
 HOW TO FIND US
A Stay In The Country Pet Lodge & Training Center is located at 2610 Shadewood Lane, Charles City, VA.
Our dog boarding, dog training, dog daycare, dog grooming, and puppy training services clients come from the Richmond Tri-city area, including Charles City, Prince George, Hopewell, Richmond, and New Kent.
Call us! 804 • 795 • 9415