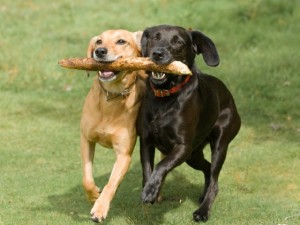 So much more than dog daycare
Dog daycare is a great way for your pet to burn off excess energy and enjoy some company while you work. At A Stay in the Country, we take the concept much, much farther.
Our goal is to help you enjoy a calm, focused, socialized dog who's a delight to live with.
Why Send Your Dog To Daycare With Us
Small play groups We choose your dog's playmates to match his style and temperament so everyone has a great time
Constant supervision We never leave dog play unattended, ever, and we always know what all dogs in our care are up to
Active engagement We don't just stand around watching—we interact to keep dogs having good, clean, safe fun
Customized activities No two dogs are alike, so we make sure your dog's daily itinerary
 is just right for him
So much room to play Your dog will enjoy 4 acres of outdoor, fenced space on our family farm plus our indoor play area during poor weather
A focus on safety All of the above add up to a safe, fun day for your dog—and peace of mind for you
Your Dog's Customized Daycare Itinerary
We don't warehouse dogs. We seek to enrich their lives, improve their behavior, and make them better companions at home. That's why each daycare guest enjoys a structured day full of fun activities chosen specifically for him. Your dog's day might include:
Supervised play with well-matched dog friends
One-on-one cuddle or play time with staff, particularly for older or less social dogs
Physical games like fetch, Frisbee, and tag for directed exercise
Tug games to burn off energy and for learning "take it" and "leave it" cues (great for mouthy dogs and those who don't like to "share" their balls or other toys)
Hide & Seek and King of the Hill games to expand problem solving skills
Chase games for exercise and to work on recall prowess
Time romping through the splash pools or sprinklers on hot days
Nap time as needed
Why So Many Games?
So many reasons! Dogs who lead quiet, under-stimulated lives are often easily over-stimulated and thus challenging to connect with and train. Games teach impulse control and focus while your dog has a blast with our staff and their doggie friends. They're also a great confidence booster for shy or nervous dogs. We can't wait for you to experience the difference game playing here with us makes in your dog at home!
How Our Dog Daycare Service Works
Come in for a pre-daycare evaluation
We want to make sure your dog will actively enjoy his time with us, and we'd love a chance to show you around.
Choose a 2, 3 or 5 day/week package
We ask for a steady, regular commitment of at least 2 days per week. This allows us to create continuity in playgroups, which keeps everyone safe. It also means bigger changes in your dog's behavior at home.
Drop your dog off for fun!
Then head to work and look forward to picking up a happy, tired dog well on his way to becoming the best four-legged family member he can be.
Get a full report when you pick your dog up
A report card on your dog's activities fills you in on how he spent his busy week with us
Doggie Daycare fees: Start at $21/day when pre-paid monthly, or $25/day paid a la carte
Good health policy: For the safety of all dogs in our care, every dog who plays with us must be current on all vaccinations and have shown negative on a fecal test within the last 12 months.
Save
Save
Save
Save